Santa Pola, Spain - a relaxed and low key town on the edge of the Mediterranean that's kept its fishing fleet as well as its original charm despite growing spurts. Fishing boats share the harbour with an extensive marina, and a number of superyacht manufacturers also call Santa Pola home. In the summer months the total population can swell up to three times it's normal size.
The town then comes alive to lively music and neighbours having a chin-up till the early hours of the morning. The weather makes it possible to live outdoors all the time, only retiring to bed when exhaustion sets in. Bars and restaurants do a brisk trade, and the whole population appears to be out and about, all the time.

Having fun at roller-coaster rides screaming at the top of your lungs (for the smaller children), wind-surfing, banana boat riding, jet-skiing, water-sporting even kite-surfing till dusk and samba beats of the many chiringuitos de la playas, the beach bars, that have 'open all hours' for real.

To paraphrase A dog is not just for Xmas: Santa Pola is not just good for summer, it's a good place all year round. Events, fiestas, the weather, plenty to see and do through all four seasons.
Santa Pola pleasure boat Marina at dusk
...and the working part of the port...
Fish straight off the boat at the port
I remember many years ago, on a driving holiday in Andalucia, southern Spain. After a few hours on the road we stopped at Ronda. We were quite surprised to see throngs of people, just out for a breath of air at dusk.

Ladies with their prams, fathers with their young tots lifted high and settled about their shoulders, young boys and girls in groups laughing, chatting on their mobiles. We're not talking about infrequent groups of people, we're talking about the whole town.
It's called the paseo , literally translated as walk or more appropriately, stroll. Most Spaniards are urban dwellers, so street-level is their front and back yard.

And again, some time later, when stopping at a town just south of Barcelona, the same thing: everyone out and about late at night. Nothing special - that's just what they do. No doubt there are some at home watching TV, but there can't be that many... most of them are ... well, out. If there are a lot of people watching TV in the evening it can only mean one thing: the football is on, and they aren't watching it at home - they're at the local bar.

A few years ago, we were in Santa Pola one evening, and we wandered into an obscure bar down one of the side streets, in 'downtown Santa Pola'... I love using that term in emails to confuse the receiver, where downtown usually means the centre of important places like New York or Tokyo, or even Taihape (NZ), but Santa Pola isn't quite that big to deserve it, as yet.

We took a few seats near the bar and ordered some drinks. But we were constantly jostled by the bar manager who was furiously trying to adjust his big plasma TV, so we moved to a table near the window instead. He continued to prod it and mutter... great looking static there pal, I thought.

The bar girl rolled her eyes to the ceiling then reached across past him, plugged in the satellite receiver, and gave him a cheesy grin as the TV got its usual sharp colours back. He flashed that 'oh yeah' look, ok then. Oh, it's Barcelona versus Madrid and two minutes to kick-off... that means it will get very popular, real soon.
Ordering more drinks I returned to the table when the door nearly got ripped off its hinges with the rush of locals desperate to get a beer and a seat before the starting whistle blew.
My, this should be interesting... let's see how the Spanish get wound up on the football.
We stayed for the whole match, and thoroughly enjoyed it. The locals, and other out of towners, threw insults and friendly banter back and forward, depending on who they supported, including some who thought both teams were rubbish and should be relegated to the second division forthwith.
Always with hoots of laughter, and in good spirits, although they could have left the gas-powered air horns at home; had ringing ears for about half an hour afterwards. Ok in a football stadium, but a bit over the top in a confined space. Can't remember who won, but can remember it was a fun experience.
Meanwhile, back in the real world, as in street level, Santa Pola natives happily doing their paseo (a stroll). It's a happy time, see and be seen, some dressed up to the nines, other are just comfy and casual. Old men and women sometimes with walking stick, stopping for a breather on a park bench or roadside benches... and, the shops are all open - yes!

It was a surprise at first, all these people going nowhere except to stretch their legs, have a bonbon or two for the kids, indulge in an ice cream or sip an aperitif, catch up on the news as you're bound to meet many people you know, but we soon got the hang of it.

One evening, we were there having coffee, and happened on two weddings taking place in the Castillo in Santa Pola. We wandered into the courtyard to find both parties at opposite ends of the cobbled courtyard, resplendent in all their finery. None of them were bothered about casual visitors strolling by, or even taking photos. We took quite a few photos and congratulated them on their celebration (but weren't invited to the receptions - never mind).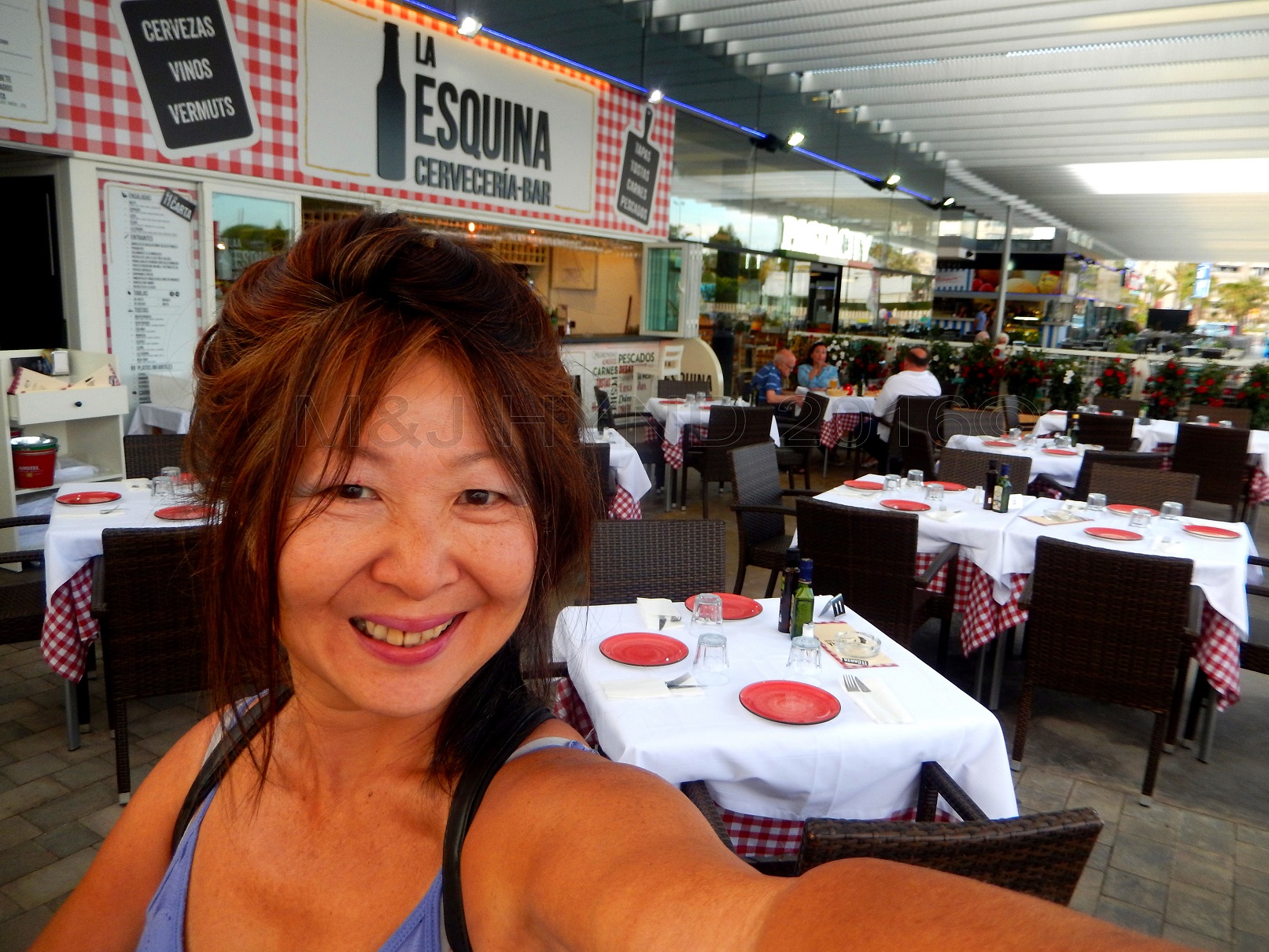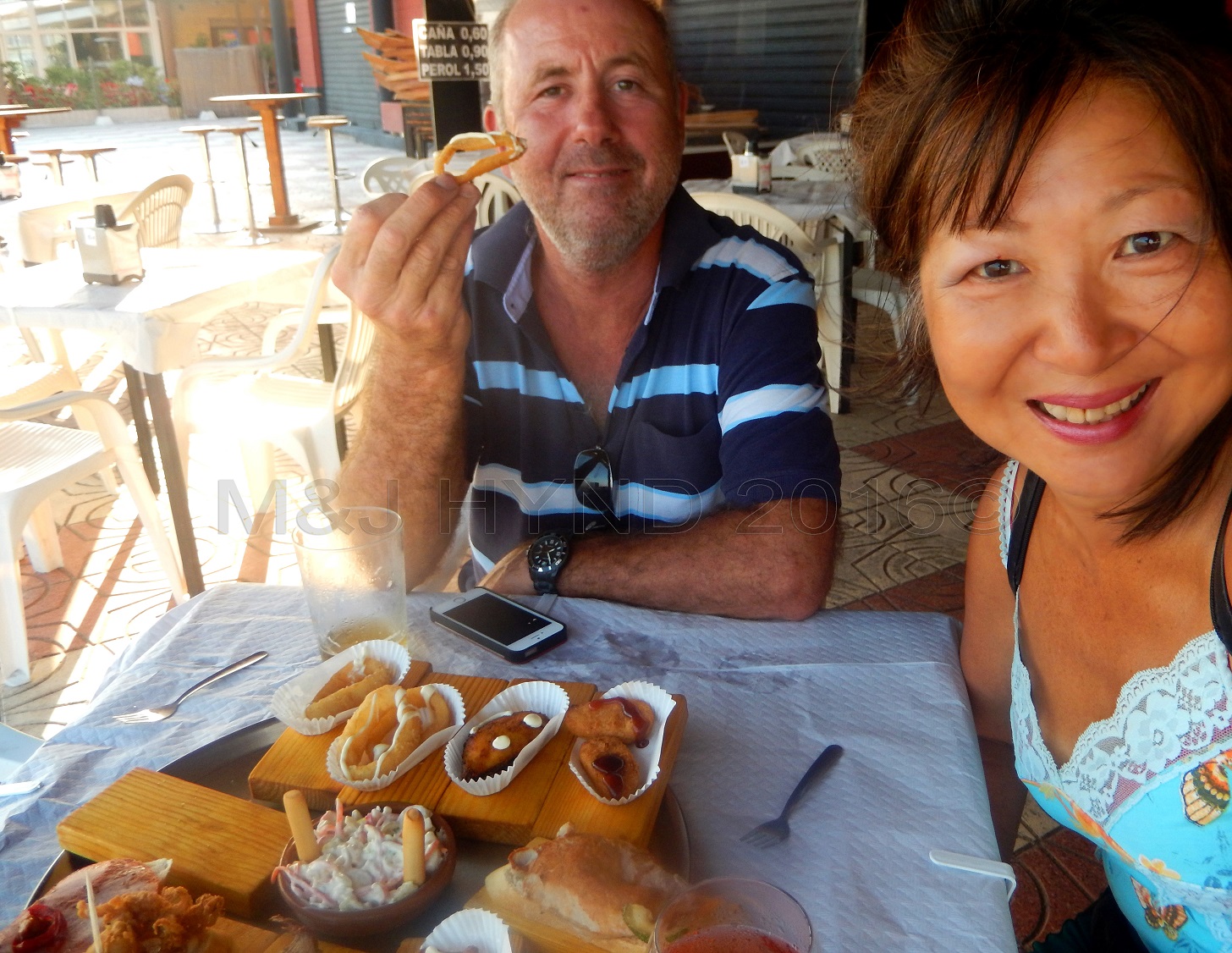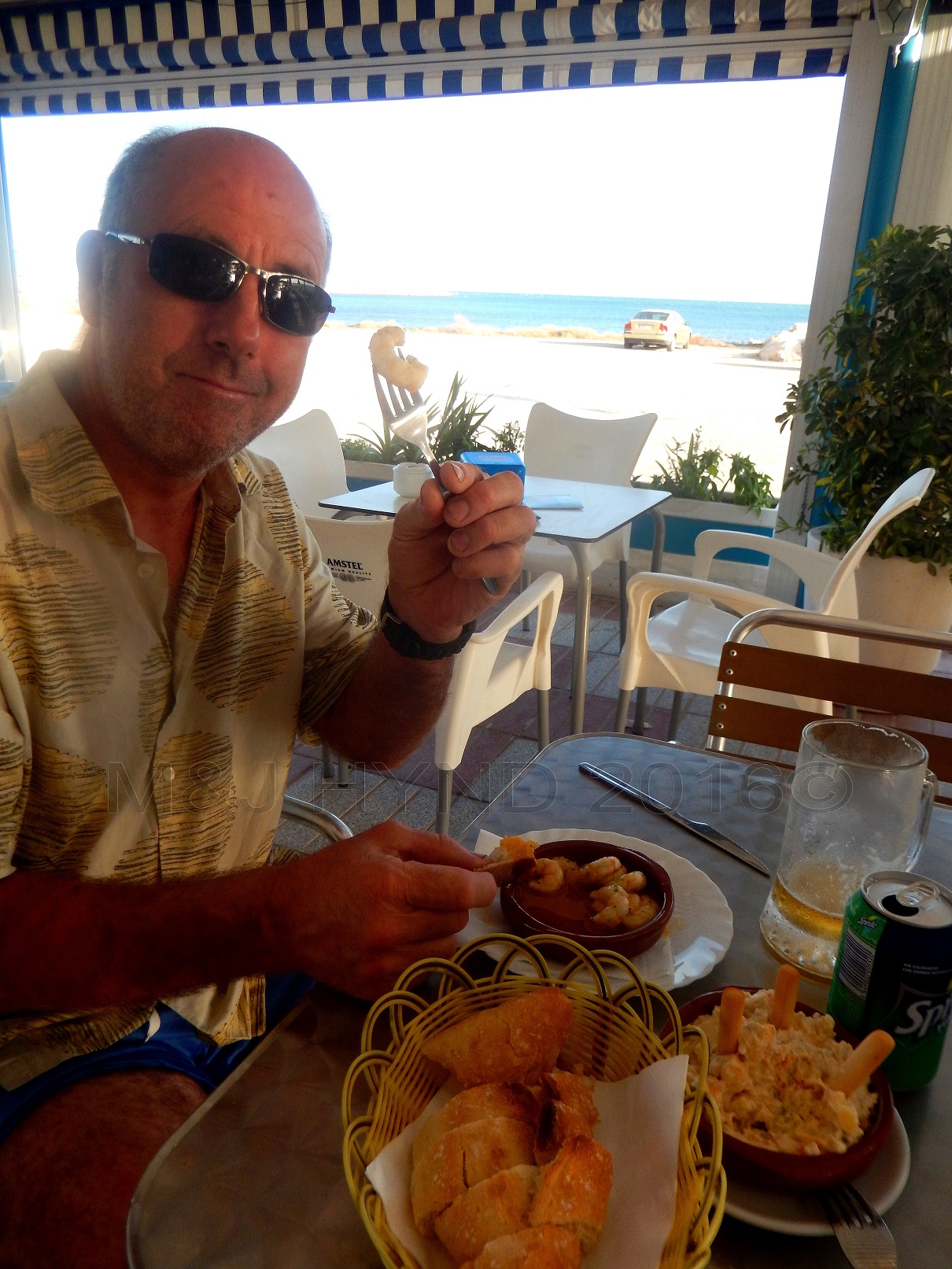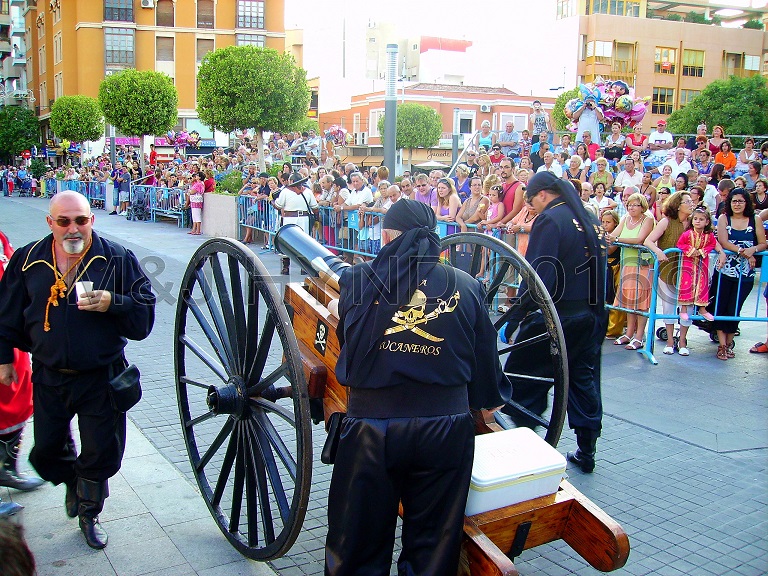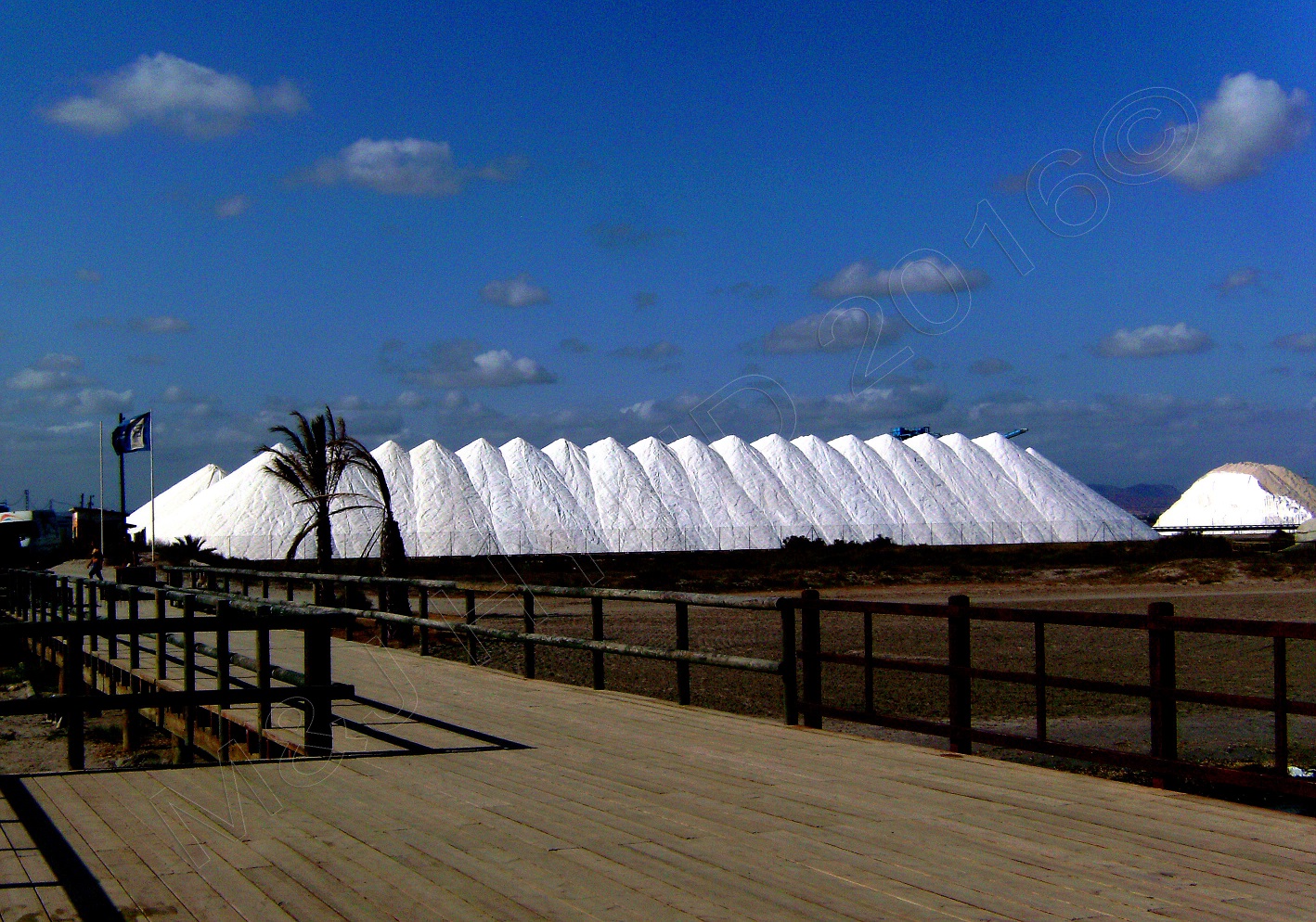 History 101
Santa Pola has a rich history in changing hands... many inhabitants of different cultures settling here:
Neolithic period in La Cueva de las Aranas, in the Carabassi area.

Iberian period, a walled settlement came to be used

Roman times, a factory to make salted fish, and a port which was later to become "Portus Illicitanus".

16th century, the Fortress-Castle and Watchtowers were built to repel invasion by Berber pirates .

18th century ended the lawlessness of the area with the expulsion of pirates, and a fledgling fishing industry helped to foster a thriving community
Museo del Sal and its wetlands.
The museum is located where the old salt mills were. There you can watch videos on how they still maintain the ancient process of salt-panning albeit using modern tools: over about two months, seawater is piped between decreasing sized ponds evaporating H2O in each pond. The salinity increases and in the last pond the water dries up completely leaving a 20cm slab of pure salt. The museum also has a lookout for bird-watching (among the other birds: an extraordinary number of flamingos), and to make guided visits to the Nature Reserve of 'Las Salinas'.
Castillo/Fortaleza Santa Pola
The watchtowers were used in the 16th century, when Berber pirates often attacked Santa Pola from Tabarca Island. Inside, the Castle now houses the Museum of the Sea, Museum of Fishing, the chapel "Virgen de Loreto" and numerous exhibitions in the exhibition hall.
Santa Pola has a characteristic Spanish feel as it has maintained a predominant Spanish population despite the influx of foreigners over the past twenty years.
They celebrate their fiestas with great gusto, and have a thriving fishing industry, at one time the biggest fleet of fishing boats on the Med (see: La Virgen del Carmen fiesta.)

Monday to Fridays, in the evening, you will find the fresh fish market open in the port area next to the Santa Pola marina. Santa Pola maintains fleets of fishing trawlers, and is still recognised as the most important fleet in the Spanish Mediterranean.

If you go to the port area in the early evening, you'll see the fishermen arriving home with catches of the day. They are auctioned off and sold at the fish markets at the port area. Fresh from the sea, cigala (Norway lobster), bogavante (lobster), mejillones (mussels), almejas (clams), sepia (cuttlefish), atun (tuna).

There is a daily covered market called the 'mercado central' though they open about 8am and start to shut down around 1pm. However, there is the big Saturday market, with fresh vegetable and fruit, breads and pastries, and clothes and non-consumables on offer. A repeat market again on Monday but only clothes and non-consumables.
Santa Pola will always have that extra little something, with its new marina, Tabarca ferries, yacht charters and water taxis, fish markets at the port in early evening, fiestas and Moors and Christians celebrations, and of course the typical Santa Semana celebrations at Easter. The medieval fair is also on at Easter. And of course, the football at the bars - just get there early.
Santa Pola medieval market at Castillo Fortaleza de Santa Pola ; Berber tents with huge array of chocolate, honey, almond nougat, fig cakes, dates, Moroccan tagines, entertainers on stilts.etc ..
It will entice you to spend more time here, especially with 320 sunny days per year and eleven kilometres of glorious blue flag beaches.