When you are young and learning about food preparation, "a cook is not a cook without a cookbook". Maybe. Perhaps it's just you learning from your Mum, or by observation if you are lucky enough to live somewhere where food is regularly prepared in front of you.
What if you wanted to write and publish a cookbook - say, a one handed cook book? Memory was all important, taste and experience when growing up played an important part when cooking with one hand or with both hands. Recipes galore, but a one handed cook? Could you do it? What are the sequences of experiences that you would have to have... could you remember them? But you need to start somewhere.
Even though I now live in NZ (but also Australia, UK, and Spain), I grew up in the tropics in Penang, Malaysia, where good food rules. On street corner you'll find gems of delicious hawker-food, during the day and evening: you might think Malaysian street-hawkers rarely sleep, as they seem to be everywhere all the time.
Fantastic food is so readily available. There are countless dishes available in hawker-complexes, restaurants, street-side vendors, seafood villages, Mom+Pop cafes, the 'roti'-man on his beat-up scooter carrying fresh breads with his pannier/see-through glass-box laden down with goodies. Or, ladies, balancing trays of gooey-sweets and cakes on their heads. Back then, those were the take-aways.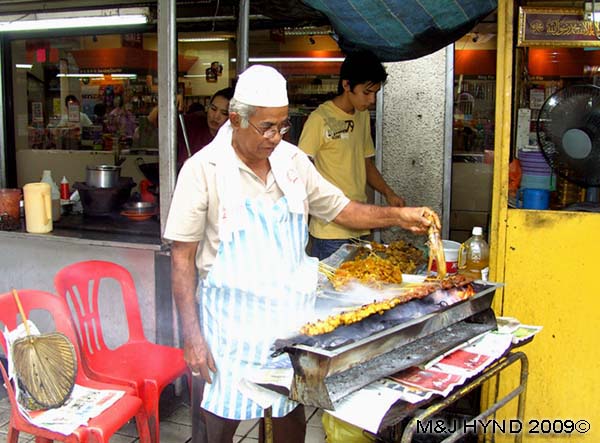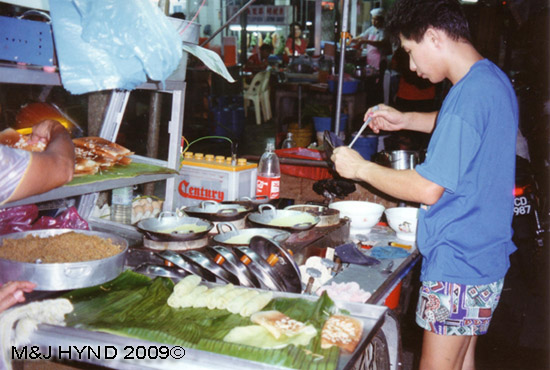 And it's even more readily-available now, though maybe not so nostalgic. I wonder if they use cookbooks, or it's in their genes? It's quite common to be invited out ten times a week, and still fight to be the one to find a new outlet for food.
Holidays where food discovery and sampling gastronomy are quintessential, where better to go for ideas than Penang, as it is a renowned food paradise throughout South-East Asia. [it was also recognised as a UNESCO World Heritage Site in 2008 - maybe the food was the decision-maker?]. As a kid growing up in Penang it was just 'our' kind of food, but there were a lot of interesting combinations of exotic food, fruit and vegetables right on my doorstep.

Like say, the petai dish, a green-ish bean (stink bean), that special flavour and aroma that goes so well with chilli, or sambal belachan which is a potent shrimp paste flavoured with chilli.
Malays (Beef Rendang, Nasi Lemak)
Chinese (Char Koay Teow, Bak Kut Teh)
Indians (Roti Canai, or Banana Leaf curry)
Nonya (Assam Laksa, Kerabu Bee Hoon).
... all have their own specialties. And the desserts are something special. Everyone is already a great cook; the idea is to find some exciting dish that you excel in, whether you find it in a cookbook, or it's handed down to you. Or, choose a vendor, restaurant.. that does it, the exact way you like it... perfectly!

When I was very young, we regularly visited my maternal grandmother. On one occasion, just before Chinese New Year, we were helping make 'kuih kapik' (Malay for love-letter) which is a wafer-thin extremely-delicate biscuit, and given by the Chinese as presents on Chinese New Year. The idea was to make a batter which was ultra-thin and made in rounds with a waffle-iron; I had to fold them when they were done to perfection, before the rice-wafer biscuits cooled.

Needless to say, my fingers were red and raw from folding the kuih kapik, once to half, once more again to a quarter - though, my grandma's wafer-thin biscuits were the best I've ever eaten. Coming a close second is kuih bangkit, a crumbly biscuit from tapioca flour... the joys of home-baking in my grandma's kitchen. Unfortunately, I couldn't get the recipe from her cookbook because it was in her head!

Every meal that is put in front of us, in our household, had to be finished...and if it's delicious, that's even better. I'll always remember my Mum's soups, which rarely came from a cookbook: clear and wholesome, with lots of good things in them. There were seaweed soups to clear the complexion, hearty stews with gingko and goji berries when you felt like a boost for exams, cooling fevers with light melon and cucumber soups and spinach congee. The dishes were there, I just ate my meals without too much thought.

Now, when I think back to all those years ago, it made sense. Also when I noticed all the new discoveries that the Western world have made, I thought, wow, my Mum sure knew what was what, way back then. My Mum and the community that I grew up in, prepared me for the travels I was later to do, tasting foods around the world.

I've lived in New Zealand, Australia, UK. But it is only when I look around me, here in Spain, that I realise that the things I find important now, foodwise, are mostly here in my garden or very easily available. In nearby Santa Pola we have a huge outdoor fresh fruit and vegetable market every Saturday morning.
I was brought up in an environment where exotic foodmade with the freshest ingredients, was readily available from street-vendors at every corner. The cuisine and my travels have tempered my taste to sometimes unusual combinations of flavour.
I am now in the situation of being able to combine my approach to cooking with fresh seafood from Santa Pola fish market, having just arrived off the trawler. Imagine my surprise when reading about superfoods, or anti-cancer foods, .. or even foods to choose when you would prefer to be wrinkle free for as long as possible, to have smooth-as-silk skin.
MUSSELS WITH SAMBAL & HARISSA
Cookbook: Travels with a One-Handed Cook, p69
It's way of life, the Mediterranean Diet, or the Hay Diet. Look to the building blocks first, and the rest (weight loss, looking better & brighter, etc. ) will follow.

Oh.. by the way, I suffered a massive, haemorrhagic stroke 14 years ago? It was called an AVM (Arteriovenous Malformation), a congenital disorder a tangle web of blood vessels in the brain. In the event of an haemorrhage, the risk of serious stroke or death is approximately 30-50% (about 1% per year).
Well, I survived this... cheated death, but I couldn't: walk, talk, read, write, my short-term memory was lost, was paralysed on my right, and confined to a wheelchair for many years.

I had open-brain surgery for nine-hours, as the Neurosurgeons fought to save my life and stem the massive haemorrhage. The stroke resulting from my AVM (haemmorrhage) was very severe, resulting a major loss of function. How did I cope? It's explained in the Travels cookbook synopsis.

Now I can walk (though use a legbrace), and my right arm is still paralysed but many of the things I did before my stroke, which I thought I'd never be able to do again, I can do gradually to varying degrees...
I'm travelling once more, maybe a trifle slower than before, and have written cookbooks - the recipes are a mixture of South-east Asian and Mediterranean cuisine with the nuances and flavours of my travels injected into them.
At school, I was an avid amateur cook always willing to try our new recipes - now, I'm a One-Handed Cook. And lastly, a cookery/cookbook section - that says: all is not lost when you encounter setbacks, just a detour an a re-work, and try something new.
It's a second chance at life for me - the journey through life is never done until you're done. ENJOY!
TRAVELS OF A ONE-HANDED COOK