Back to the 13th Century... but just for a while
Another festival or fiesta in Santa Pola is my guess, this time at more forbidding venue, a fortress-castle: Easter… fervour or feverish holiday? Spain - fiesta in Santa Pola medieval celebrations in April?
All week, we've been busy on the news-gathering front; many extra people were in town for their holidays as well as devout Spanish devotees on their Easter religious vacation. The visitors in town must have been pleased with the great weather. What better time for the festival, the fiesta of Santa Pola's medieval markets. This is one of Santa Pola's fiestas and had all the rich furnishings of Moroccan-type desert tribes, bedouin camps, mystical aromas of delicious cuisine. Very atmospheric, and justly medieval, what would this Spanish fiesta bring in term of colour, food, gifts & strolling minstrels? I spy a Moroccan teahouse or two, in the midst of the sea of people

It's Saturday, so the weekly Saturday market in Santa Pola is on… but, in fact, we're going to the Castillo in Santa Pola, for another market; the Medieval Market, which runs for 4 or 5 days – great! In line with Easter celebrations, full of court-jesters, lilting music, food galore - to taste and buy, medieval characters… food, yes that's got my vote!
Parked in a side street, we set forth … tantalising aromas of food cooking as we neared the Castillo grounds – no chips, hotdogs or sandwiches... something more substantial, perhaps. But, what? Cheeses, all kinds of chorizos and embutidos, pastries, cakes galore, a Moorish tea-house with gooey, luscious Baklava and other sweets, cuttlefish, open-BBQ with legs of beef, pork, lamb, meat skewers like brochetas, …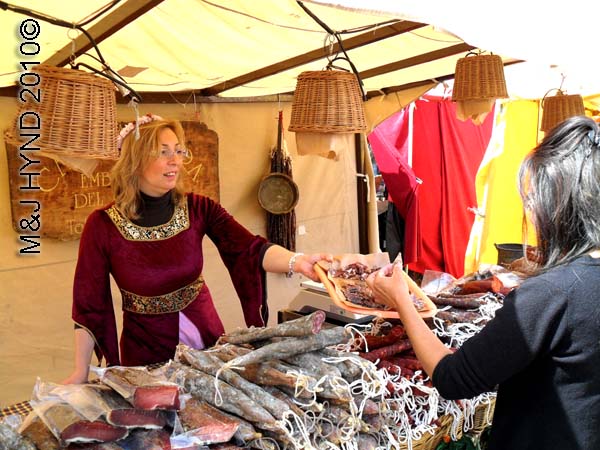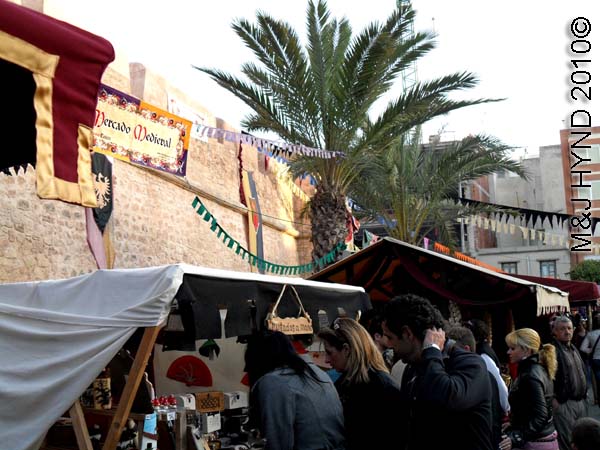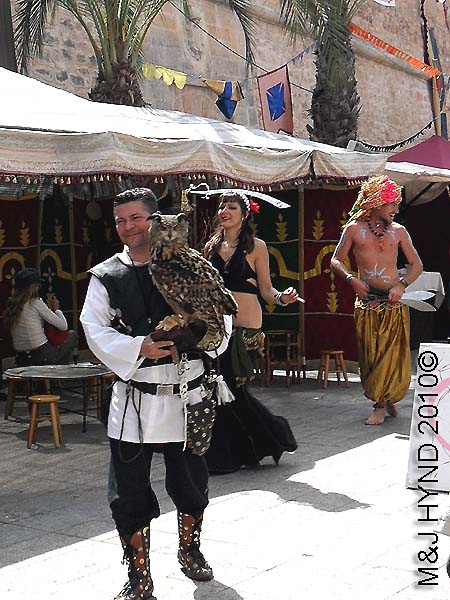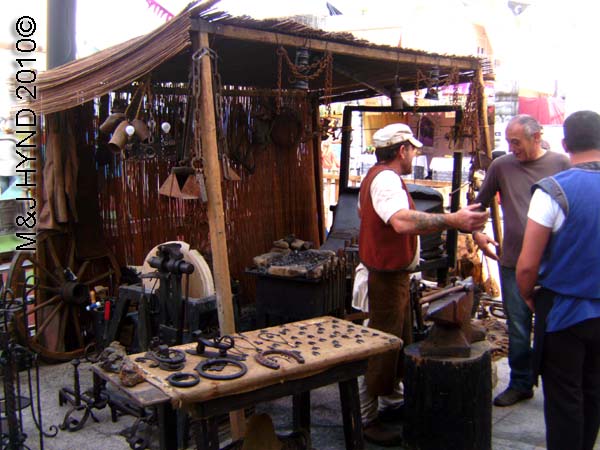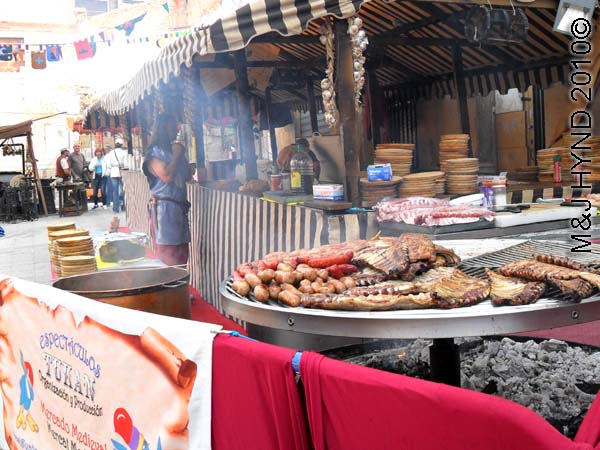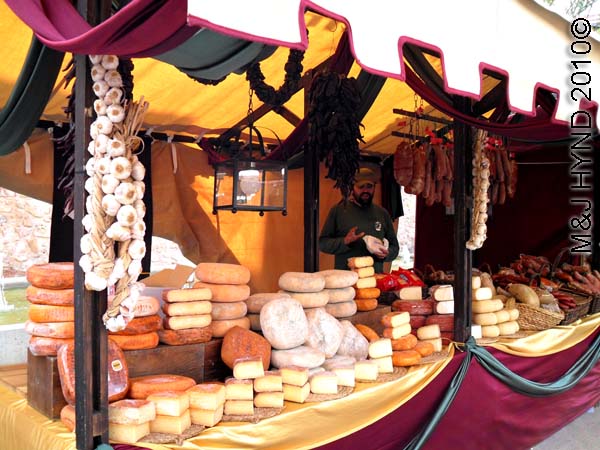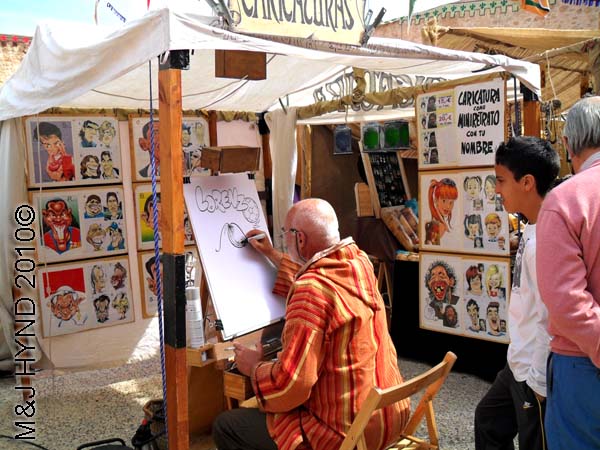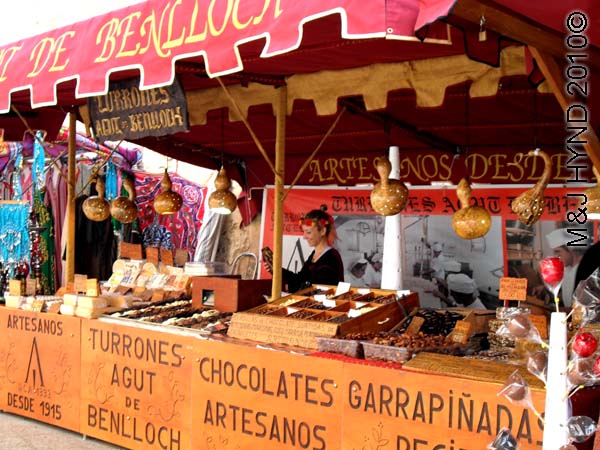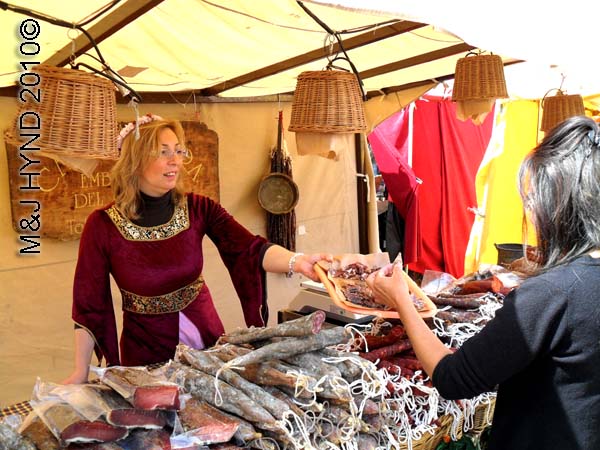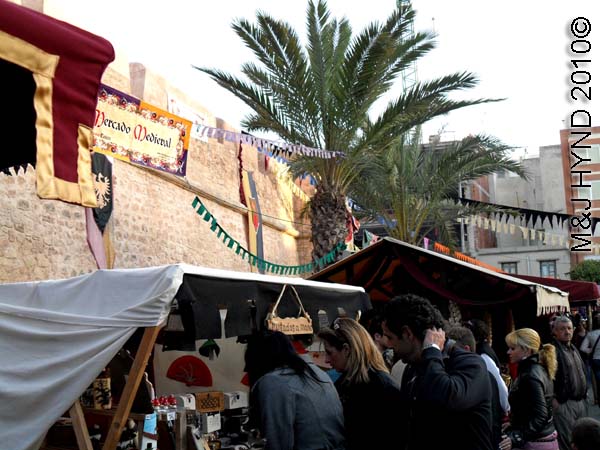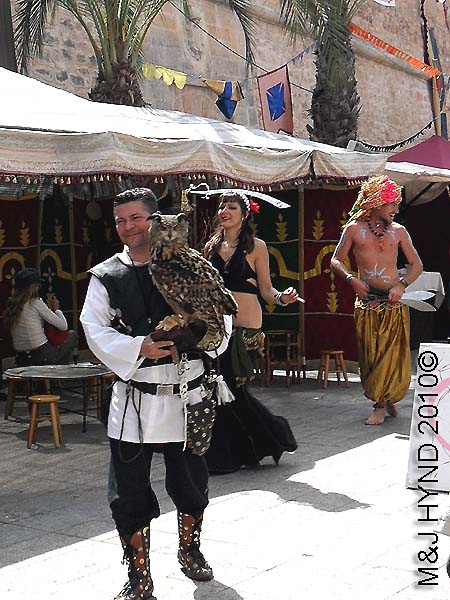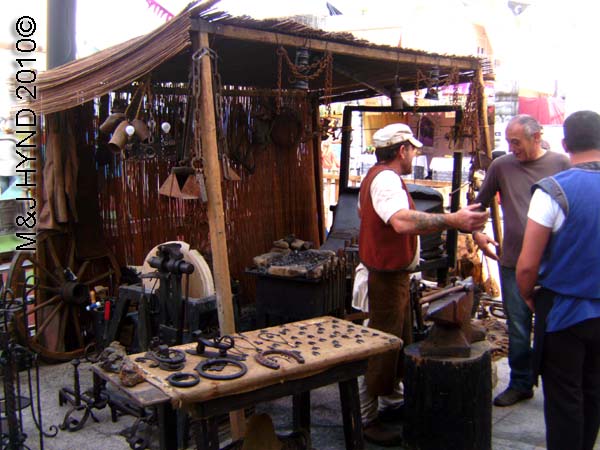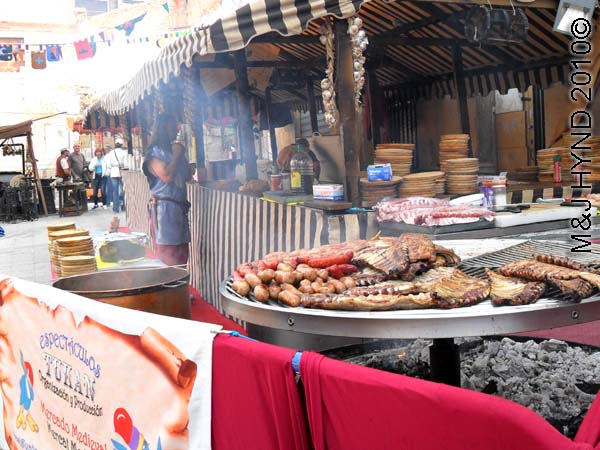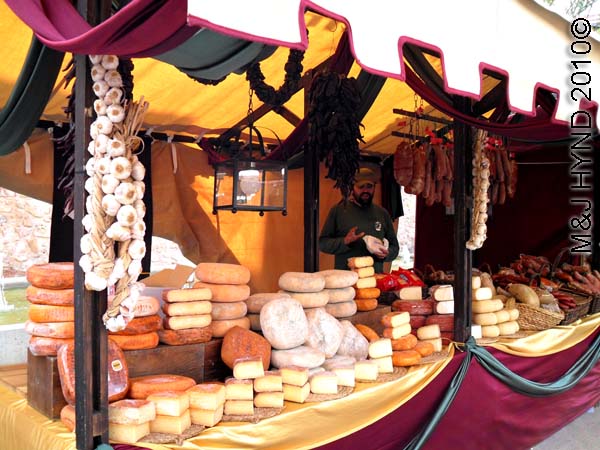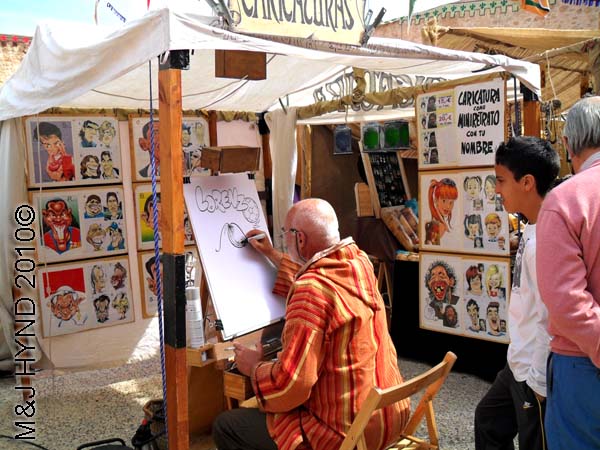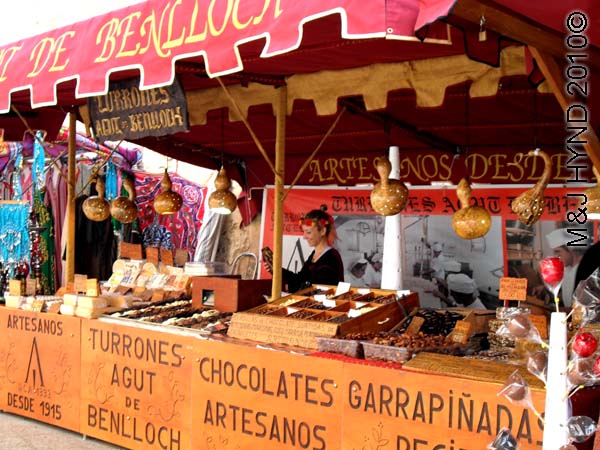 Then, just as we were pondering what to have, the medieval music started up somewhere close by; somewhat mischievous, lively, lilting,.. around the corner came the strolling band of minstrels. They were preceded by a gaggle of geese, an Arabian maiden who could be sinuously quick with knives whist belly-dancing accompanied by her counterpart, the swashbuckling hero - reminded me of Sinbad the Sailor or Ali Baba an the Forty Thieves, with lethal weaponry.

There were Knights/soldier in chain mail armour, and noble-court ladies, fluttering their fans flirtatious and coy, mime artists, jugglers…. Later on, there was aerial trapeze acts, bagpipes and lots more….

We browsed around the stalls, and happened on a skilful caricature artist. He was amazing, to have captured the intrinsic vibe of the person and turn it into a caricature… we were fascinated! And to complete the medieval feel, they even had their own blacksmith!
On leaving the Medieval Market, as we had difficulty parking close to the Castillo, we had to traverse quite a number of streets to our parked car… passing the Mercado Central (the indoor/outdoor main market) of Santa Pola. We had always been past it, and looked at it briefly in the past.. now we had enough time to have a closer look – ultra-huge mille-feuille nearly tempted me (yes, they do have pastry-cakes as well), .. to fresh turkey with its head still on (maybe pass on that) … to to-die-for charcuterie …
Hmmm - there are little bars and café places, both in the market and outside, to have coffee and tapas – maybe we'll do that and leave cooking until another time.