Coming to Spain was an eye-opener; the Spanish do take meal-times to be proper meal-times; some of the stores still close for lunch and the afternoon siesta – anywhere from 2 to 4 hours. You just have to re-arrange your time-table to fit. It gives time to relax, have a bite to eat, digest your meal.
Lunch time is very important, the principal meal of the day some would say; at night, the Spanish generally have a snack, or tapas. We had resisted the urge to have a big meal at lunchtime because it's not our thing. But a Spanish smorgasbord?
We'd love to. Eat up large, and have a smorgasbord for lunch - why not?
In our heyday, when we were younger and it wasn't that difficult to exercise-away those extra pounds, sure, smorgasbord? - bring it on. I remember having pizzas, large, extra large, and still have space for the dessert. Smorgasbord was for the weekend or for birthdays meals : catering to everybody's like and dislike was easy, as they have a whole host of dishes, hot and cold, to choose from, and add to that desserts - bargain.
Even smorgasbord on holidays, ie, All-Inclusive deals? Back in the pre-historic moments of our travels, around the the turn of the century (years around the 2000's), when we booked to go for overseas holiday, it normally came with a pre-requirement: room only, BednBreakfast, Half-Board, Full Board, All-Inclusive.
We've tried an All-Inclusive once or twice, with a gargantuan smorgasbord for everything, but it was just too much food. But if you didn't eat to extremes it was probably a a great deal, as you have nothing to worry about and you just enjoy being pampered and having all the meals catered for, breakfast, lunch, dinner, morning tea, afternoon snack, midnight feast and in-between morsels. It's more popular in some countries than others; there are plenty of deals still in Antigua, Dominican Republic, Mexico, Cuba... All-Inclusive-smorgasbord meals, beach, relaxing - great.
So, even though we had heard about the Monday 'special' on at Casa Molina, we'd typically be busy with other things in Elche or in Alicante… having said that, the idea of a buffet / all you can eat for a fixed price, isn't a common theme.
We do have a veritable heaven of eating places, in and around Santa Pola, Elche, Alicante… café-bar-restaurants, snack bars, coffee shops, 5-star restaurants and the prices to match, fried fish stalls along the sea-front, chiringuitos (beach bars), selling hot Spanish version of doughnuts, … cosmopolitan array of many restaurants in downtown Alicante and bigger shopping centres and lots of bars and cafes in small communities of fincas (hamlets) or urbanisations.
But, today we decided that we'd try the buffet lunch at Casa Molina, in Valverde. Previously we've always gone to Casa Molina at night, for a tapas or an a la carte meal for dinner, also for July fiestas on the three weekends during July where the roads are cordoned-off, and feasting for the locals and as well visitors (more write-up elsewhere in the website)… so, this was a first.

The price was too reasonable, we thought; what was the catch? The buffet was served upstairs in Casa Molina; you buy vouchers downstairs at the bar area. No catch, it was a buffet, fair and simple, as much as you can eat; plus a free drink beer/wine/soft drink/etc..
A choice of 7 or 8 scrummy desserts, 4 or 5 paella, cooked seafood was beautifully fresh, jamon (cured meat, sliced very thinly, like prosciutto ham) and chorizo (spicy sausages), hot and cold starters, very delicious mains, etc. …
Chorizos, stuffed artichoke hearts, lentil+bean+bacon stew, v-e-r-y nice baked sea bream with red prawns, chicken mushroom and onion medley, and a seafood special (lobster, fish, potatoes, and all manner of herbs and spices...)... and there are more...plus, pork ribs with tomato sauce, spaghetti bolognese, chicken breasts in wine sauce and red peppers... and of course 7 different paellas, plus starters of 4 different salads, and asparagus and sliced beef and jamon ... plus a fried mixture of fish including calamari, prawns, and, and, and .....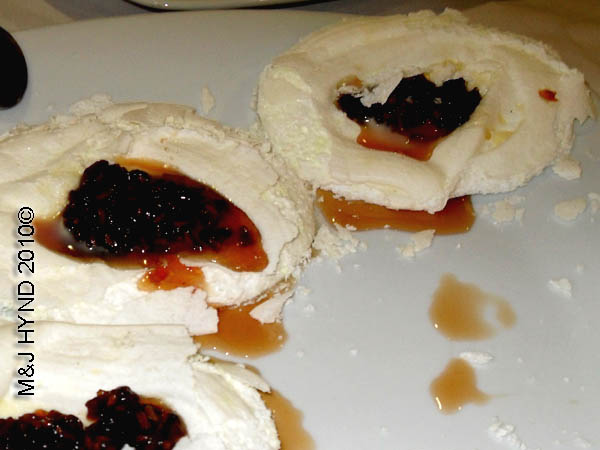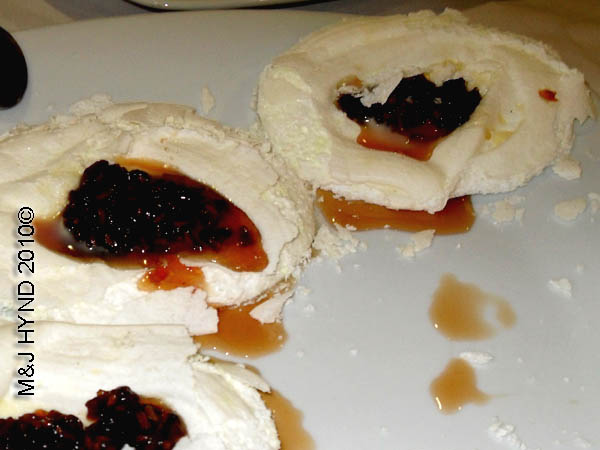 Mini-meringue, topped with local produce: pomegranate seeds gently reduced and caramelised. Really moreish chocolate mousse with a base that is so delicious one suspects (and hopes) it was made with condensed milk.
There was no hesitation to tuck in. The dessert portions were modest, thereby enabling you to have 4 or 5 portions of the one dessert or different types of desserts on offer. Choice! The photos don't do the food enough justice. I'm wishing I had more space to fit in a few dozen fresh red prawns that a fellow diner had, straight from the kitchen, just as we were finishing our meal and had no space to fit in any more food.
Despite the number of people being catered for, the kitchen staff consistently kept the food arriving at just the right tempo - once a dish was half gone, a new platter / bowl / pan of fresh offerings was suddenly floated into place.

As with all great finds, no-one know for sure how long it will last; at writing it apparently had been going for two years, so one hopes it continues. On the bright side is the knowledge that Casa Molina is a stones throw from Perleta Magic. The restaurant has a long-standing solid reputation in the area, and it does a lot of celebrations when children get baptised in the local church /or communion, and wedding receptions are exceptionally catered for. It certainly has our vote: the food is exquisite, especially on their Monday buffet special – can't wait to go again!