Tapas = Snack / Nibble / Bite = Yum!
This section is dedicated to food, as in eating out, as in primarily Spanish tapas (other fabulous Spanish food also gets a mention here). Note the emphasis on the term: Spanish tapas.
Not just because the word tapas is Spanish, but because it evokes a different genre in eating experience than most others.
Tapas
First of all the definition: the original idea of a tapas was a piece of bread, some topped with jamon or ham, maybe Manchego cheese, balanced over a glass, to keep the flies out of your drink - the word tapa means a cover.

They were offered as free snack once upon a time. In villages in the deeply rural parts of Spain that idea is still going on. Even in outskirts of a major city or town, say Elche or Santa Pola, during the off-peak season the owners of the restaurant or bar may accompany your drink with a freebie tapas.

Just as a plate of olives or nutty-crunch of peanuts will do to encourage more drinks on the bar or in a restaurant, anywhere else in the world.
Sure, but that's just a 'snack'... and it could be anything. Biscuit, cookie, chicken leg, sandwich, hamburger, dry-roasted peanuts... the origin is blurred. Spanish tapas on the other hand says it came from one country with a history and a legacy behind it.

When you holiday in Spain, and it's close to lunch-time, hunger pangs notwithstanding, any ideas as to what to order? I remember my first taste in Spain a long time ago. Majorca, in a packed very noisy restaurant, lunchtime (2pm). On the counter were platters of tempting delicious food on offer. There were so much choice of tapas, dishes cooked with eggs, spicy sausages and chorizos, jamon, grilled and pickled fish, grilled octopus or cooked slow in wine, squid tender and delicious, rabbit stew, ..
We had no idea what to order. The owner had a suggestion: one platter of mixed seafood and another platter of mixed meat. And we were hooked. Firstly we love food, and secondly we were more than a little hungry. Delicious morsels of food, plenty of good beer and wine, and lots of animated conversation, made for a memorable lunch. We were sorely tempted to walk around the block and come back in the other door for dinner.
I would be tempted to try the array of tapas on offer at most bars, cafeterias, eateries. The reason? When you're on holiday in a different country, and the food terms are not that familiar, having tapas is a good way to try something new without breaking the bank, and more often than not, you can see what it looks like before ordering it. It does help to know a few of the ingredient terms. For example, conejo is rabbit, and it is popularly served looking like a small stew.
The gastronomic heart of Spanish Basque country in the North of Spain have their own version of tapas called pintxos. Most are served on diagonally-sliced pieces of baguette. Sometimes the chef manages to fashion more variety and taste onto a pintxo than many restaurants put on a plate. Pintxos could be very elaborate and yet so simple an idea, balancing elements in a single bite.
Despite being of Basque origin, there are a few outlets of the Lizarran chain nearby.
Tapas is universally available, and seasonal pop-up tapas restaurants at the beach make it that little bit more inviting (see slide show to the right).
As with all food, there are tapas competitions, and it's taken very seriously by the Spanish. All to the benefit of the traveller with a taste for a new Spanish gastronomic delight. The competitions are usually organized by town and run anywhere from a week to two months.
Even our local bar-restaurants offer exquisite variations, the delectable taste of seafood, or succulent meaty morsels during the special promotion, with each participating chef offering a special creation, usually at a bargain price.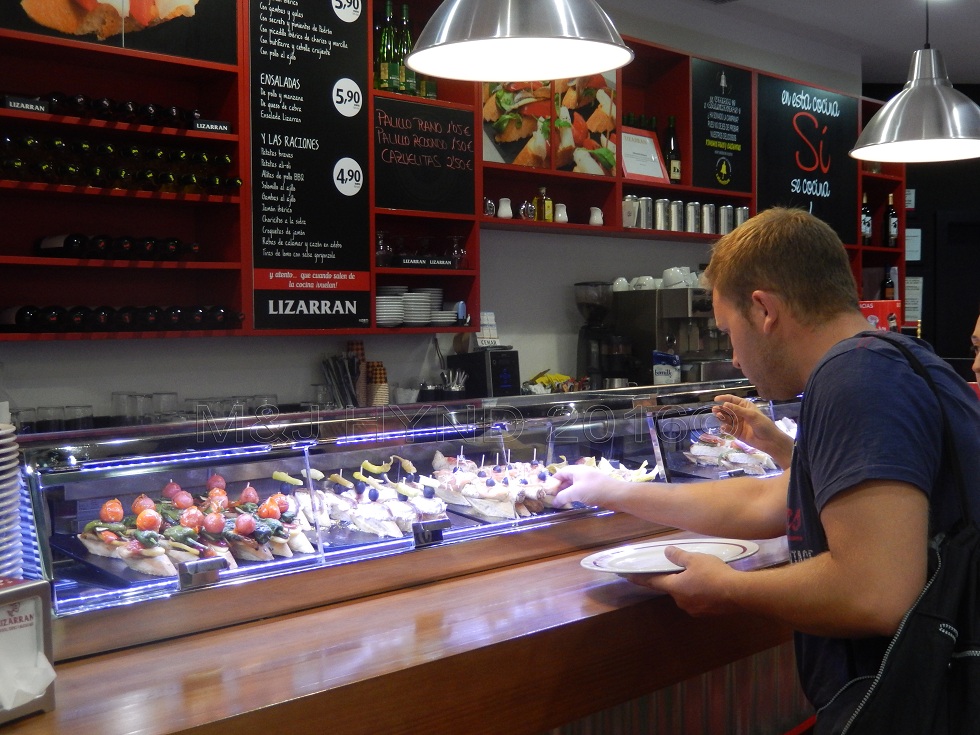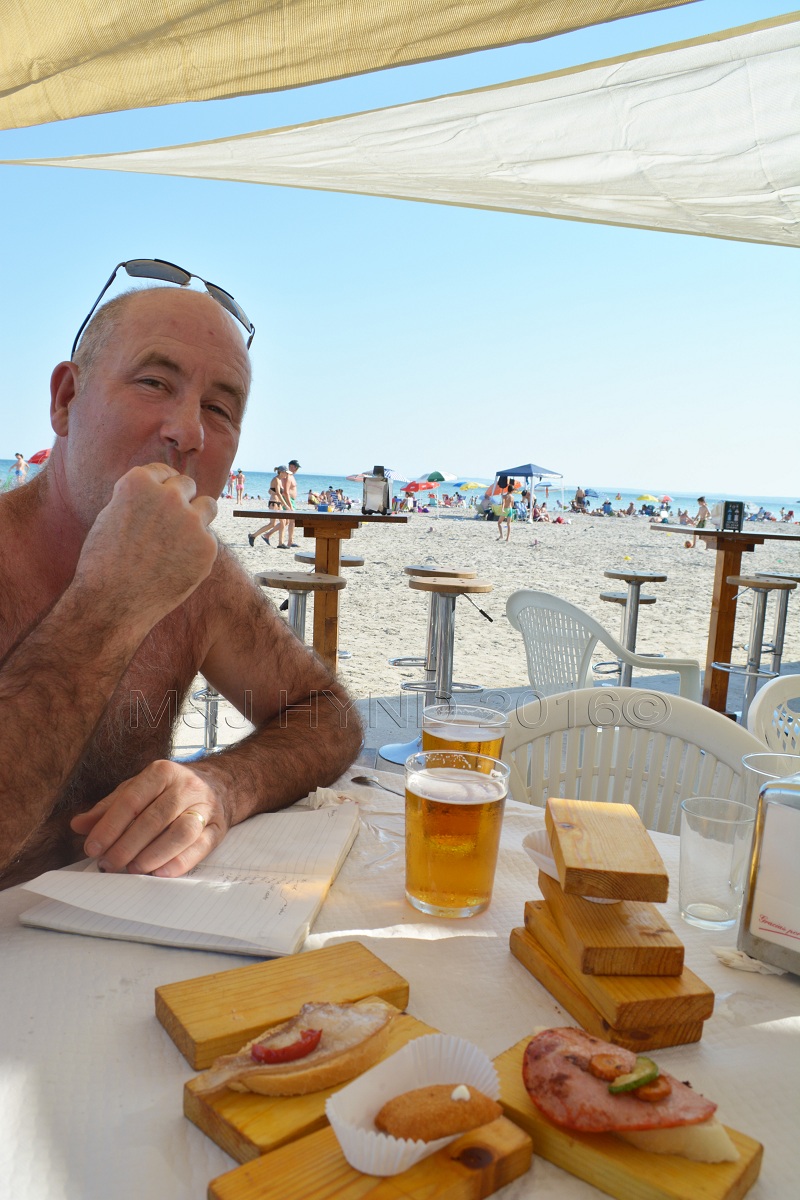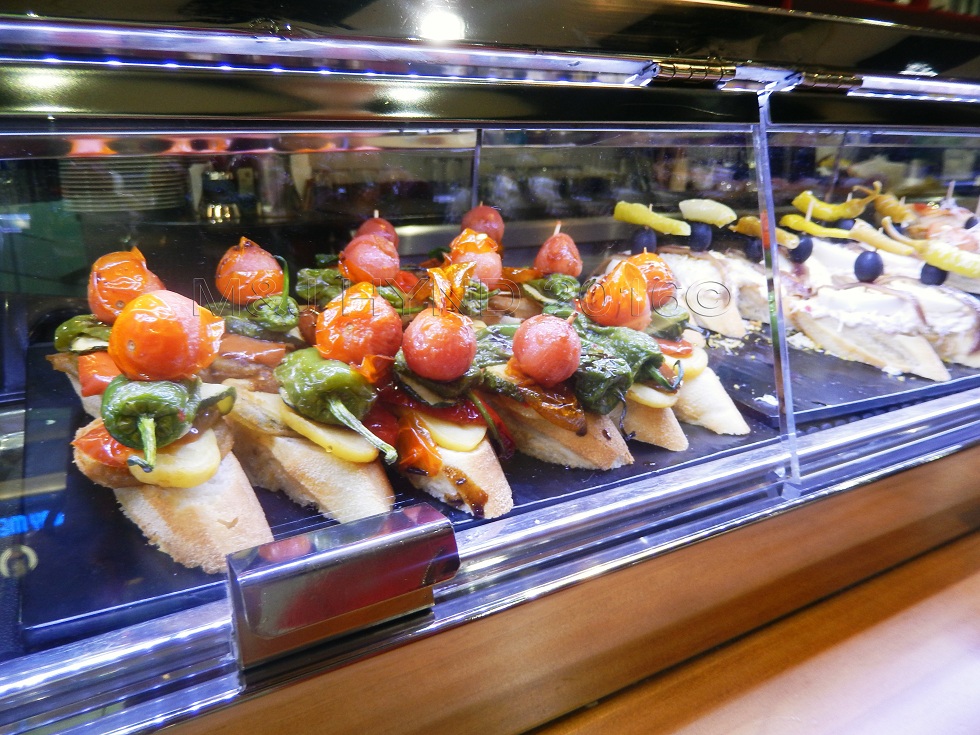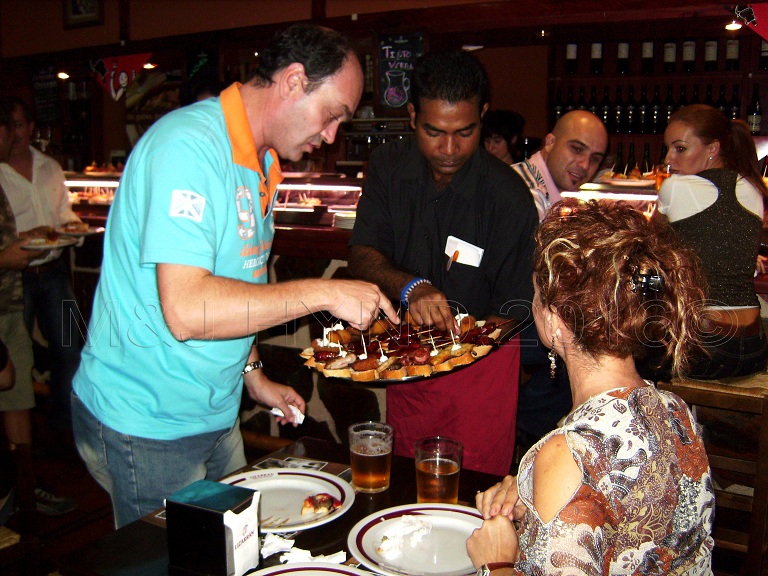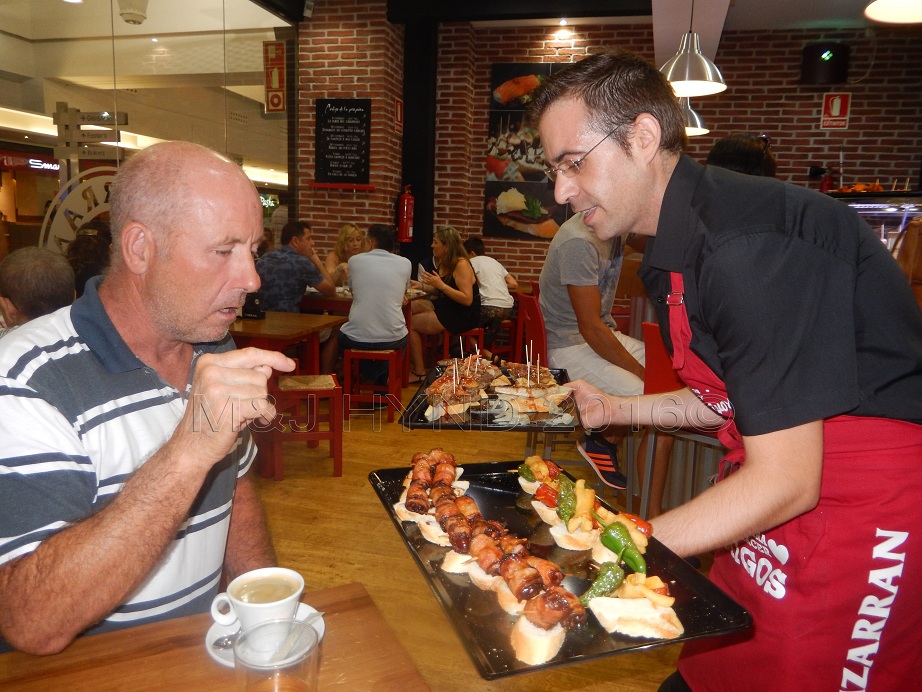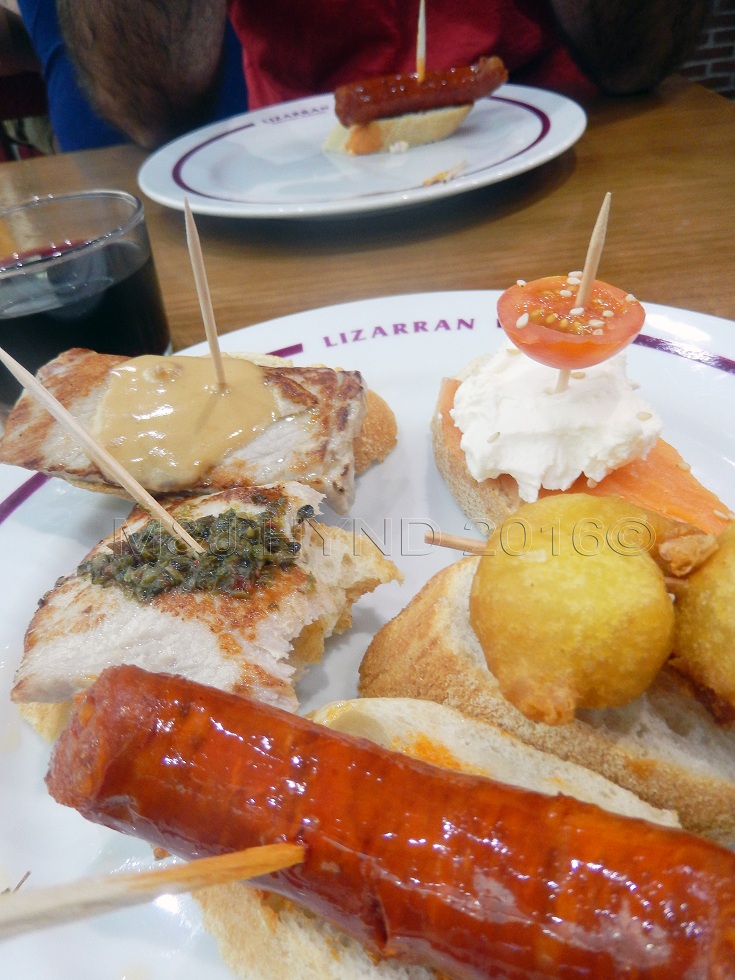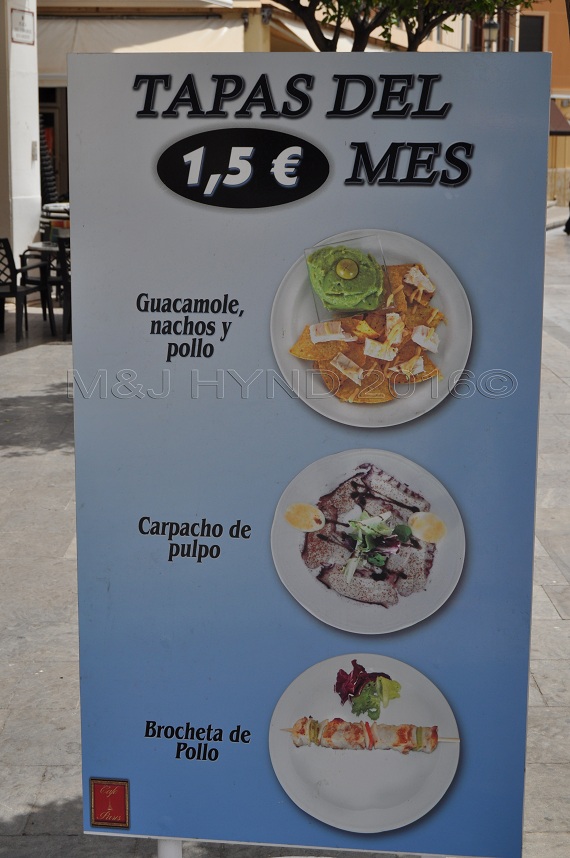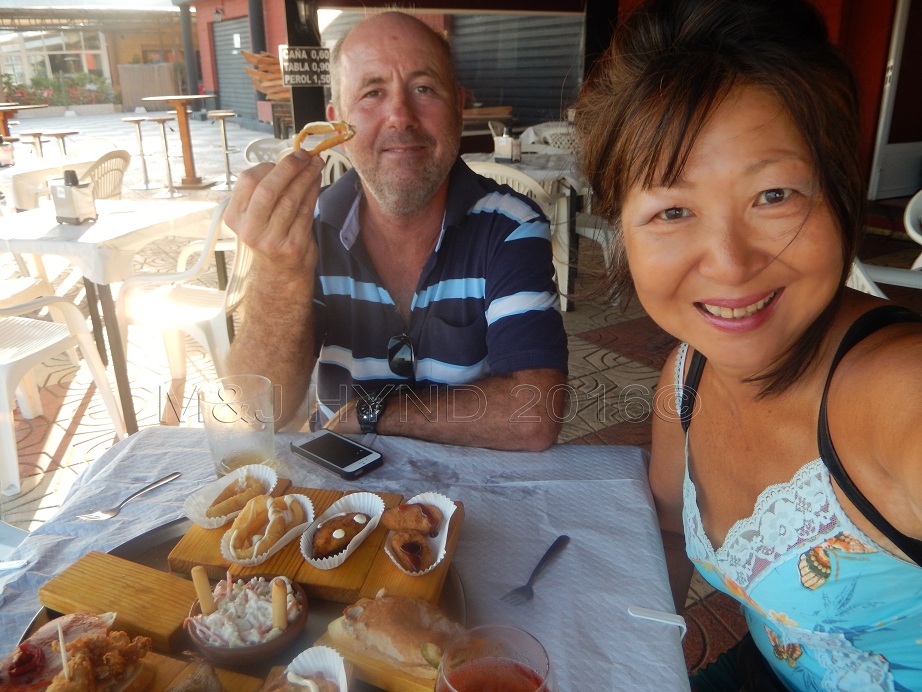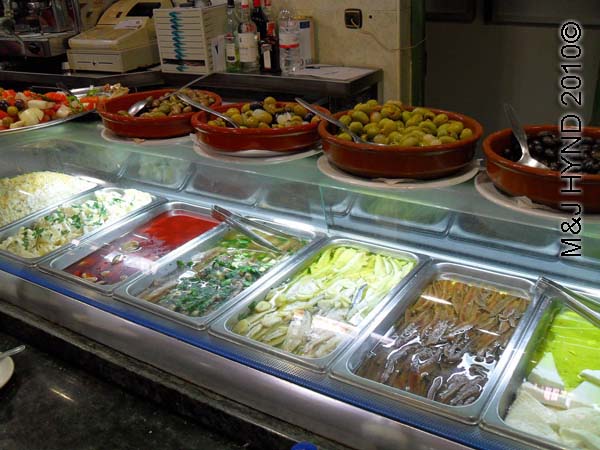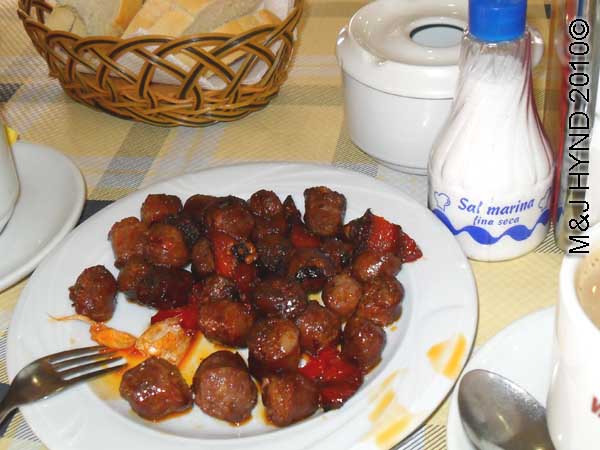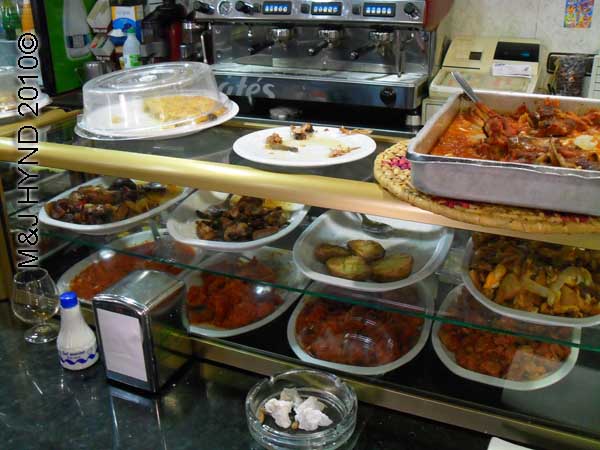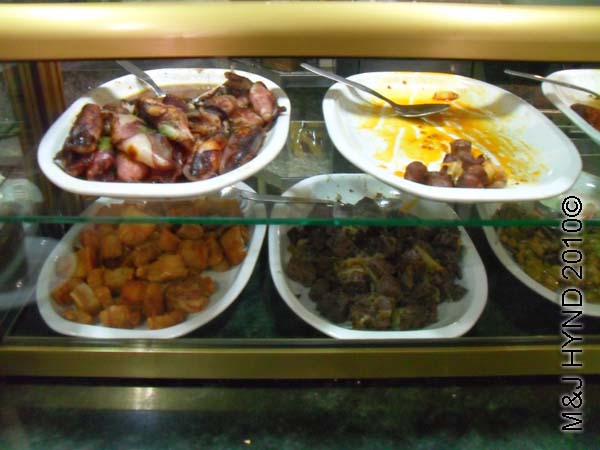 However, after you try some tapas or pintxos, you start to think 'these can't be that hard to make at home'. So, when in Spain, do as the Spanish do (apologies to Romans); as in make your own. So I did. Here's one recipe I've created for you to try:
The Other Food ...
No lengthy waffle on Spanish food, just a few photos with a basic description... supermarket forays are included as is a wing-ding of a local Elche take on the renowned paella, better known as Arroz con Costra... (rice with crust). Its basically a paella with a souffle-top, and way more delicious - the example we show you here is the BIG one at the annual Elche August fiesta... alongside the fiercely contested Arroz con Costra neighbourhood competition ...