Who grows all these flowers?
Spring is here; in fact it's mighty hot, perhaps it's summer already? … buntings, gaily-coloured flags, farm implements as thedecoration, all strung up: saws, hammers, picks, flower-pots… There was bars and refreshment stands, and places to eat, drink, and party.
What can it be – another fiesta? Surely it cannot be. We just had a couple of Spanish fiestas only a few weeks before in our part of Spain. But, we were lucky to be in the catchment of 3 different towns, and 2 hamlets; Alicante Hogueras (Bonfire) fiesta, Santa Pola fiesta of the fishermen honouring their patroness saint, Elche Semana Santa or Holy (Easter) Week, Valverde Annual Fiesta that last 2 weeks at least, Perleta Fiesta, and a whole host of others.
I've heard some say about Spanish fiestas, in that each and every day there are fiestas taking place somewhere in Spain. In Spain around fiesta time, which is the whole year really, it is probably true that fiestas abound in little known hamlets celebrating feasts of the local saints to big affairs involving thousands of revellers! This time it is the festival or the fiesta of the Crosses of May, in Alicante.
As usual, we're having fun out-and-about, this time in a whitewashed village, everywhere you turn are lovely geraniums, in the flowerpots, going up steps to another level of whitewashed houses.
Some pots are hung on the wall, others hanging in rooftop-gardens. On each corner, in each home, everywhere there are flowers, as we climb up quite steep steps.
The church-bells were ringing, keeping time with the happy sounds of the marching band, intermittently loud booms of the fireworks can be heard – I tried to locate the the pyrotechnics-guy, but he was not to be found, just the ear-piercing sounds as he let off more booms and bangs.
We went up some more steps and found ourselves in the most exuberant celebrations we have seen yet.

Locals and visitors to the area were entertained by live music, drinking and eating, children were busy jumping up and down, side to side on bouncy-castles.

It was hot, hot, hot, both temperatures and the sizzling celebrations….
As we climbed higher and higher in the old town, white-washed houses, geraniums, tinges of blue and green for shutters and outline of windows, an old lady was being interviewed in of the of highest homes of the neighbourhood.
The homes there were built into the side of the mountain, under the watchful eye of the Castillo de Santa Barbara, an austere though beautiful fortress castle.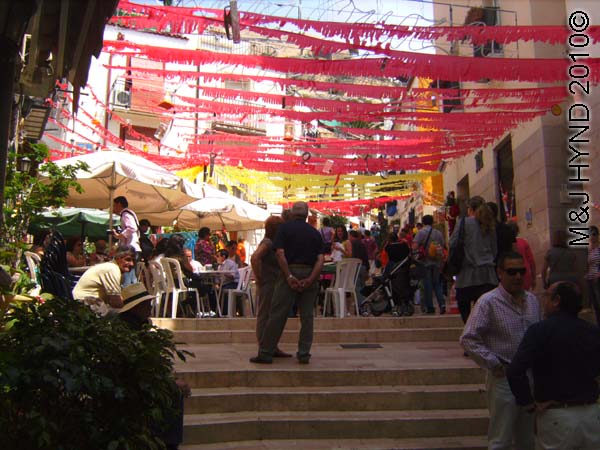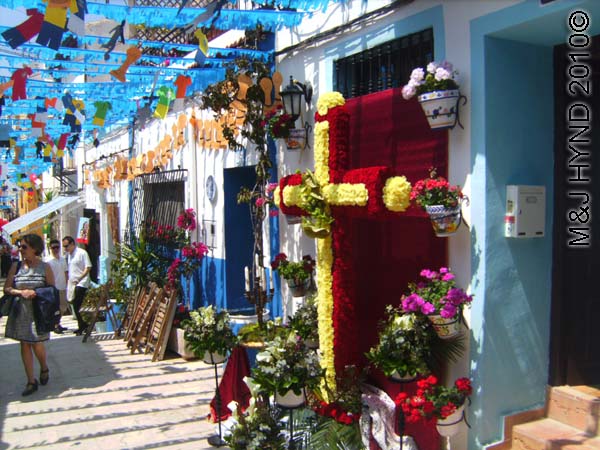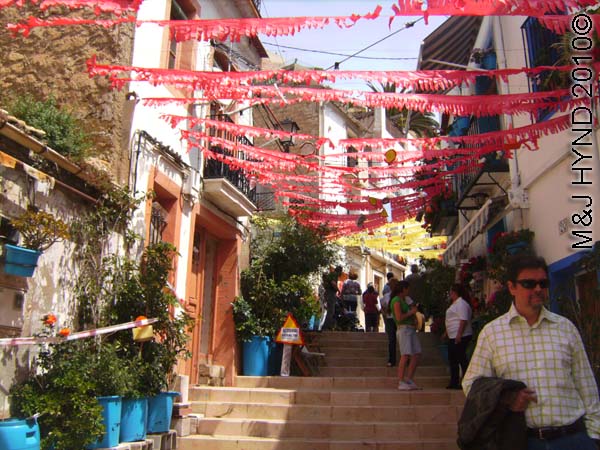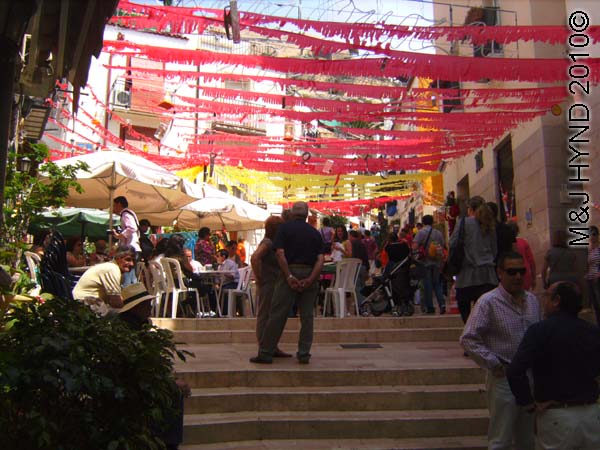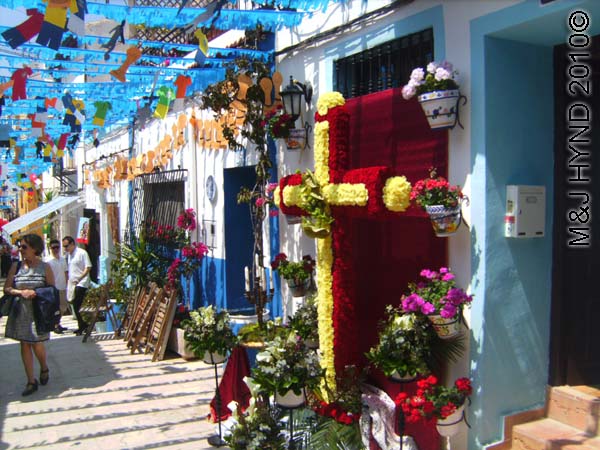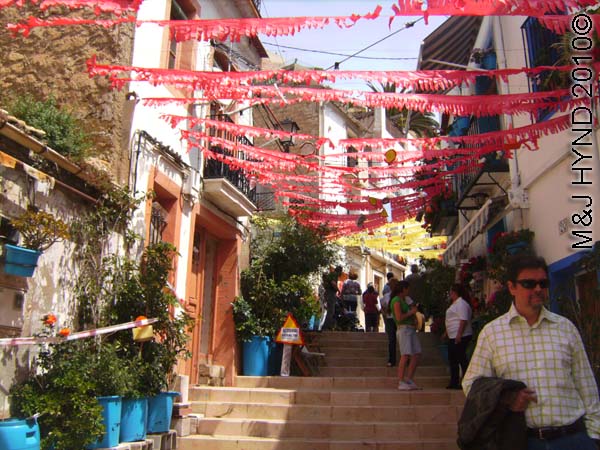 Neighbours were out-and-about, happy, chit-chatting. There were many visitors from out of town, admiring the contestants' entries – yes, there was a competition going on; the Crosses of May, fantastically floral decorated crosses that signify 'spring is here'.
The family, in the neighbourhood, judged to be the winner was announced with rapturous applause, exuberant ceremony and much feasting.
The prize-giving ceremony was held in the stairway-to-heaven area, I thought. A little bit more than a square hanky, in-between tight levels of houses, on different levels, transformed into a platform with tongue-in-cheek, blockbuster screen movie-prints and blushing red carpet, reminiscent of the Oscars with gold-starred names of great actors.
In our travels around Europe, we were fascinated with villages with white-washed buildings. It has a charm like no other. Lovely Rhodes and Crete in the Greek island, come to mind… though, Santorini in the Cycladic Greek islands, is the picture perfect example, white-washed houses almost as if tumbling down to the sea, with hot pink bougainvilleas and dusky purple.
Turkey, Morocco with Essaouira in particular, and the white villages in Andalucía, like Frigiliana, Arcos de la Frontera… show good examples.
Santa Cruz: in the shadow of Castillo de Santa Barbara
However, Santa Cruz is actually a 'pueblo blanco' as well (village of white-washed painted homes), despite being slap-bang here in central Alicante... who needs to travel all the way to Greece and beyond to have the similar holiday experience?
Funnily enough, there is another place, with a white-washed building, riot of bougainvilleas of hot pink, vermilion-red, deep dark purple, roses, passion-flowers, honeysuckle, strelitzia, jasmine… trellis sunshade and grapevines just as we used to have sitting on the little fishing harbour in Greece or southern Spain, shading one from the searing heat of the day or the dappled sky appearing amidst the ripening grapes on the grapevines… even outdoor movies. An orchard of orange trees, aloe vera, figs, walnuts… and a Caribbean-style, thatched rim-edged pool with swim-up bar? Yeah, that's our place.